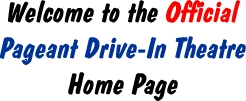 Questions or Comments?
Email us!
BigScreen at pageantdrivein.com
Ummm...Guess What?????
We're Baaaaaack!!!!!!!!
Opening Weekend is May 31, June 1st and 2nd!!
Yup, that's right...We've just found out that there will still be
35mm movie prints available for this coming season!!!!!!!.
We're still working on fund raising for our digital upgrade, but we're pleased
to be able to open for the 2013 drive-in season!
If you're interested in making a donation towards the upgrades, please see Mike.
$6.00 for Ages 12 and up! $4.00 for Kids 4-11!
Celebrating 61 Years of Quality Family Entertainment!!
1952-20138
Click here for the article from The Gyp Hill Premiere
<NEW>Click Here for the article from The Hutchinson News<NEW>
June 9, 1936 - January 4, 2012






Hits since we came online